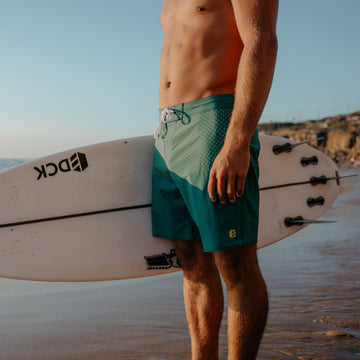 DCK Sustainability
Our efforts for a better Planet! 🌏
DCK Boardshorts is committed to building a more sustainable planet. We have taken significant steps to incorporate sustainability into our practices and offer environmentally conscious options through our sustainable collections.
Our sustainable collections prioritize the use of recycled materials. Over 70% of the materials we use are made from Recycled Plastic.
By repurposing plastic waste, we contribute to reducing landfill and ocean pollution, while also minimizing the demand for virgin resources.
In addition, we utilize innovative materials like biodegradable polyester, made possible with CiCLO® Technology. This ensures that our products have a reduced environmental impact and can naturally break down over time, promoting a circular approach to fashion.
Furthermore, we have embraced the use of Hemp in our production process. Hemp requires significantly less water compared to cotton, making it a more sustainable choice. By incorporating hemp into our collections, we aim to reduce water consumption while still delivering high-quality products.
Through ongoing research and development, we strive to continuously improve our sustainable practices and inspire positive change. Our goal is to lead by example, encouraging our customers to make conscious choices that contribute to a healthier planet.
CiCLO® TECHNOLOGY
DCK was the pioneer company in Europe producing with CiCLO® Technology fibers.
These fibers, added during the boardshort's production process, reduce the persistence of plastic pollution caused by synthetic textiles in the Oceans.
It is a revolutionary technology that reduces the creation of trash and long term pollution.
During the production of the boardshorts (using a similar process to the production from recycled plastic), the CiCLO® fibers are added, creating millions of biodegradable spots in the matrix of the plastic, where microbes that naturally exist in certain environments can break down the materials just like they do with natural fibers.
This process is extremely important because polyester fibers, normally used to produce boardshorts, are made from plastic. Like most plastics, they do not naturally biodegrade. Small fibers shed from textiles during use and care and are nearly impossible to recover, ending up as persistent pollutants in our oceans. With CiCLO® Technology, this no longer happens.
See more at ciclotextiles.com
At DCK Boardshorts, we believe that fashion can coexist with sustainability. Join us on our journey towards a greener future, one boardshort at a time. Together, we can make a difference and shape a more sustainable tomorrow.
Shop CiCLO® Products
Product made with CiCLO® Technology